Holiday greetings from Mike & Martha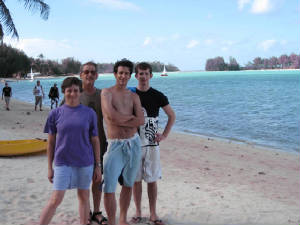 Keep in touch !
telephone (from USA): 011-644-938-5152
Skype: mike.savage
AOL Instant Messenger: Mike S NZ
Facebook: Mike Savage


We hope that this greeting finds you in good health and fine spirits !
2009 has been another busy but satisfying year for our clan, with quite a bit of traveling and several milestones. Martha received promotion to full Professor at Victoria University. Mike is retiring from teaching (after 22 years) and is looking forward to doing some serious house renovations and lots of tramping. Pat & Sawa resided with us in Wellington for 6 months before heading off to Canada in August for Pat to begin a grad school program. Kelly has completed his first year at Victoria University and continues to enjoy the comforts of home.